Amar Centre for Advanced Reproduction provides state of the art most modern & world class IVF Lab with excellent result. Our centre is unique from others for the following features. First centre in kerala with most advanced technology of REAL TIME IMSI [Intra cytoplasmic morphologically selected sperm injection]- the last resort for male infertility and for failed IVF cases.
In IMSI the Morphology of sperm cell is analysed and magnified x 900 times so that the best quality sperm is selected to fertilise the best quality ovum. For this a sophisticated advanced technology of Real Time Magnification using high quality Stereozoom Microscope [Olympus- Japan] is installed first time in Kerala at AMAR CENTRE FOR ADVANCED REPRODUCTION.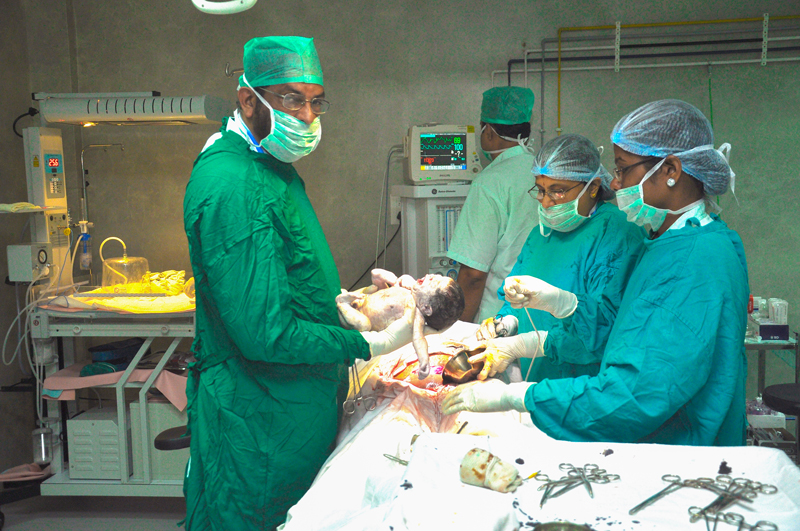 FACILITIES - INFRASTRUCTURE
24 HRS –  PHARMACY
CASUALTY
24 HRS NICU – LEVEL II
WORLD CLASS MODULAR EMBRYOLOGY LAB
ADVANCED HI-TECH MODULAR IVF THEATRE

24 HRS – 

LABORATORY

24 HRS – EMERGENCY I

CU

24 HRS – 

AMBULANCE
CANTEEN SERVICES
FACILITIES - NEONATAL & PAEDIATRIC CARE
State of the art Hi Tech Level II NICU with 14 beds having C-PAP Radiant Warmer, Infusion Pumps, Phototherapy Units, Centralised Gas and suction, Portable X-ray.
Separate NICU for Infected cases.
100 % Foetal salvage from 1000 g onwards.
Well baby clinic of High Standard with updated Immunisation Schedules.
Fully dedicated highly experienced Doctors and staff on duty for 24 Hrs.
FACILITIES - WELL ADVANCED
KEY HOLE SURGERY UNIT
State of the art world class 3 CHIP KARL STORZ SPIES CAMERA for Advanced key hole surgeries.
Morcellators
High Definition Monitors for more Accurate and highly perfection.
Highly advanced Telescopes
Harmonic Ace Scalpel and Harmonic Vessel sealer
Centralised CO2 supply
More than 50,000 key hole surgeries had done so far with least surgical complications which includes Hysterectomy, Appendicectomy, Myomectomy, Ovarian Cystectomy, surgery for Advanced Endometriosis, Female sterilisation operation etc.
FACILITIES - HIGH RISK
PREGNANCY CARE
Antenatal Screening in tune with International standards.
State of the art most modern and High tech 3D / 4D Ultrasound scan VOLUSON E 10 – first time in Kerala.
Antenatal screening for Foetal Anatomy at 12th week and Foetal congenital Anatomy at 18th week
Serial Foetal well being study including Foetal Doppler study, Foetal Biophysical score.
NST and CST for all cases.
C.S Rate at moderate level of 30-35 %.
Least Perinatal Mortality and Morbidity.
Tender care with utmost sincerity aided by Advanced Technology.
Advanced Labour Theatre with continuous Intrapartum Monitoring of Foetus and Mother.
Neonatal Resusction unit attached to labour room and Theatre.
FACILITIES - SONOLOGY AND
FOETAL MEDICINES
Highly Advanced 3D / 4D Ultrasound scan VOLUSON E-10 in the Foetal Medicine Department.
Congential anomaly detection of nearly 99%.
Vocal, sono AVC – Advanced Technology for Follicular imaging.Advanced Sono V Card & Sono NT for exact diagnosis.
Foetal Doppler study for high risk pregnancy & IUGR.
FACILITIES - STATE OF
THE ART THEATRE
Well equipped Laminar flow Operation/Labour Theatre of high standards with advanced Anaesthessia workstation, Ventilators, Central Gas and suction, LED Operation Theatre light, Defibilators and Modern Electronic Operation Tables.
Post OP ICU [15 bedded] with all modern electronic monitoring. Centralised Gas and suction, and all Emergency medicines
Department of Anaesthesia managed by senior and well experienced Anaesthesiologist with high–end technological support.
FACILITIES - UROLOGY / ANDROLOGY DEPARTMENT
TURP, Surgery for varicocele, TESA, PESA, Surgery for Renal and Ureteric Stone, stress urinary inconvenience.

Advanced standardized clinical laboratory with Haematological Autoanalyser, Semi Autoanalyser, Elisa reader, fully automated Hormone analyser etc
Appendicetomy, Hernioplasty, Haemorrhoidectomy, Cholecystectomy, BreastLump Excision, Thyroidectomy, Varicoceleectomy, Hydrocele Repair etc are done here.
INFERTILITY / AMAR CENTRE FOR ADVANCED REPRODUCTION
Advanced ICSI / IMSI Micro Manipulator
Most Advanced Microscopic systems [Olympus-Japan]
State of the art 3D/4D Ultra Sound Scan VOLUSON – E 10 in the Foetal Medicine Department – First time in KERALA
Laminar air flow with heating stages with Oosafe Air Cleaning System.
Modernized modular IVF Laboratary and Theatre.
Heracell Incubators [Germany]
Cryocans for Embryo Freezing
Advanced Andrology Laboratory & Sperm Banking.
Advanced Laparoscopy & Hysteroscopy.
Facilities include – Ovulation study | Embryo and sperm banking | Embryo

Cryo preservation, Donor Embryo I Donor oocyte programme